6 Places to Find the Biggest Pizzas in Indiana
Posted by Lesa Furman on Monday, January 4, 2021 at 12:02 PM
By Lesa Furman / January 4, 2021
Comment
Whether you have a large number of stomachs to feed or just one overly hungry teenager in the middle of a growth spurt, there are some great places to find a ginormous pizza pie right here in central Indiana. Here are 5 places to find unusually large pizzas in the area.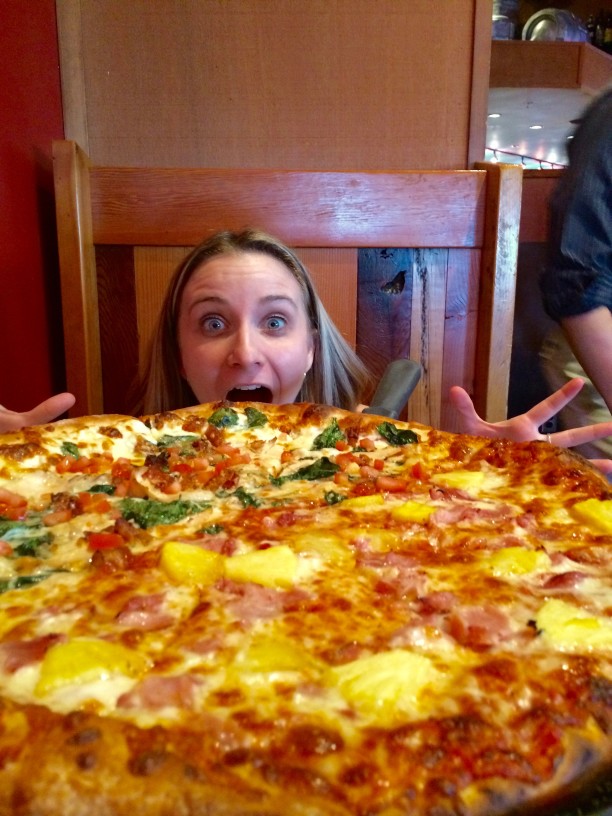 This has been a long-standing favorite in the town of Brownsburg since 2008. The largest size pizza at Rockstar Pizza comes in at an impressive 30-inches.
Rockstar is located at: 922 East Main Street, Brownsburg
Panoony's has been a part of Brownsburg since 2013. The founder is from upstate New York and had a dream of sharing his pizza skills and the experience of true New York pizza with the people in his new hometown. They serve a 30-inch pizza called The Big Noony as well as several other food items including wings, pasta, breadsticks, and much more.
Panoony's is located at: 1447 E Main Street, Brownsburg
Brozinni offers two locations, one in Indy and one in Nashville. Here you can feast on New-York style 20-inch pizzas cut into those giant traditional New York thin-crust slices we have all come to love. Don't forget: the proper way to enjoy pizza like a New Yorker is to fold it in half lengthwise.
Brozinni is located at: 8810 South Emerson Avenue #240 in Indianapolis
And
140 West Main Street in Nashville, Indiana
Around since 1992, this pizza joint claims to serve the largest pizzas in the state. This is a favorite among locals serving up pies at 28-inches in diameter and a heavy 10 to 12 pounds each. The pie is called The Big Ten Pounder and can be eaten as a challenge where two people need to complete the entire pie in an hour.
Monroe Pizza Company is located at 3151 West 3rd Street in Bloomington, Indiana
This restaurant got its start in 1986 and has since become a small local chain of 6 stores. Every J&J's serves up 18 to 26 inch pizzas in the shape of a rectangle. At J&J's there is no shortage of toppings to choose from. It is easy to create a pizza exactly how you want it. The signature pizza on the menu is called The Kitchen Sink which is topped with ground sausage, pepperoni, mushrooms, green peppers, onions, green and black olives, crumbled pieces of real bacon, Canadian bacon, and ham.
J&J's is located at:
3146 Central Avenue, Lake Station
6275 Central Avenue, Portage
1601 West Old Ridge Road, Hobart
11920 IN-10, De Motte
1454 Lincolnway, Valparaiso
1608 East Michigan Boulevard, Michigan City
Fox's is a chain of restaurants that began in 1971. There is now three different locations in Indiana to visit. They serve up giant 30 inch pies called The Big One and they also have rectangle pizzas of 24x12 inches called The Big Daddy. It has long been an Indiana favorite for pizza.
Fox's is located at: 6565 Whitestown Parkway, Zionsville
1070 West Main Street, Plainfield
4921 IN-26, Lafayette
Central Indiana is a great place to live and a great place for giant pizzas. For more information or help finding homes for sale in Plainfield, Brownsburg, and surrounding areas contact us any time.
Other Local Spots:
BROWNSVILLE HAS ONE OF THE BEST INDOOR PLAYGROUNDS IN INDIANA
THE BEST WINTER ATTRACTIONS IN INDIANA
A BROAD RIPPLE STAPLE RESTAURANT GETS A MAKEOVER
BEST PLACE TO HANG OUT IN GREENWOOD? MALLOW RUN WINERY