Binge These Shows on Hulu, Netflix, & Disney+ During Self-Quarantine
Posted by Lesa Furman on Thursday, April 2, 2020 at 9:19 PM
By Lesa Furman / April 2, 2020
Comment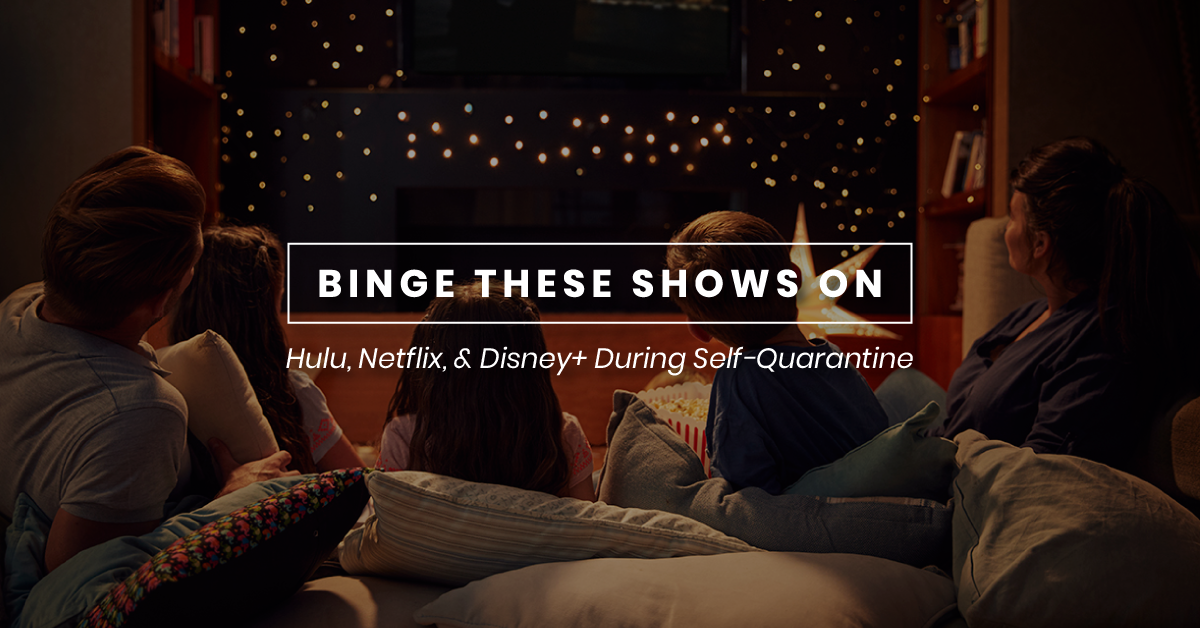 With the threat of the Coronavirus spreading across the world, you may have opted for the safest--and wisest--choice of self-quarantining. Unfortunately, you may realize just how bored you're going to be if the virus doesn't end any time soon. Thankfully, you have a subscription to Hulu, Netflix, and Disney +. With so much entertainment at your fingertips, what shows are actually worth watching? Here's a list of some of the best binge-worthy shows to catch while you're self-quarantined.
1. Altered Carbon
How about a world where death doesn't always mean the end? Netflix's Altered Carbon offers a sci-fi world rich in lore and action. Season two was just released, so you have plenty of episodes to binge through. Follow the story of Takeshi Kovacs, an elite warrior who is deeply in love with the leader of a resistance movement.
With their consciousness, memories, and perhaps even their souls, backed up on a device called a stack, they're able to be placed inside of whatever body is at hand. As you might imagine, being deathless comes with its share of problems.
This show is great for those who love sci-fi, action, cyberpunk, and some incredible lore.
2. Space Jam
Also on Netflix is Space Jam, the old Michael Jordan and Looney Tunes mix-up movie. Millennials will likely remember watching this movie often when they were a kid and sick. Why not watch it now as a sick adult? Looney Tunes still has the jokes, as you'll quickly remember.
Nothing can make you feel better than good old-fashioned nostalgia.
3. What We Do in the Shadows
Since you're going to be hiding in your house with the threat of Coronavirus looming outside, you may start to feel like you're a vampire. What better show to binge than a comedy featuring vampires? What We Do in the Shadows is a hilarious piece of comedy on Hulu.
The story follows three vampires who have been roommates for several centuries. As you might imagine, they tend to know each other's habits quite well. This show is based on the movie of the same name.
Considered a mockumentary, the show acts like a documentary of the three vampires and what life is like as a vampire on Staten Island. Expect hilarity. As they often say, laughter is the best medicine!
4. Almost Every Star Wars Movie Ever
Are you a Star Wars fan? Then you had better get your Disney + subscription ready. The platform has practically every Star Wars movie made in its catalog. You can easily binge through the entire prologue series, the Luke Skywalker saga, and even some of the films from the new saga.
If Disney hasn't acquired the movie yet, you can be sure that it will eventually find its way home.
5. The Mandalorian
In keeping with Star Wars, one of the newest TV Shows that you might enjoy is The Mandalorian. The story follows a Mandalorian, or Bounty Hunter, just after the fall of Darth Vader and the Emperor. Life hasn't changed much for a common bounty hunter. The Mandalorian is given a task to bring in a bounty. However, the job hardly goes as planned as he's pit between his Mandalorian code, greed, and his own sense of justice.
DO YOU HAVE ANY REAL ESTATE QUESTIONS THAT YOU'D LIKE TO TALK TO AN EXPERT ABOUT? CONTACT US BELOW!