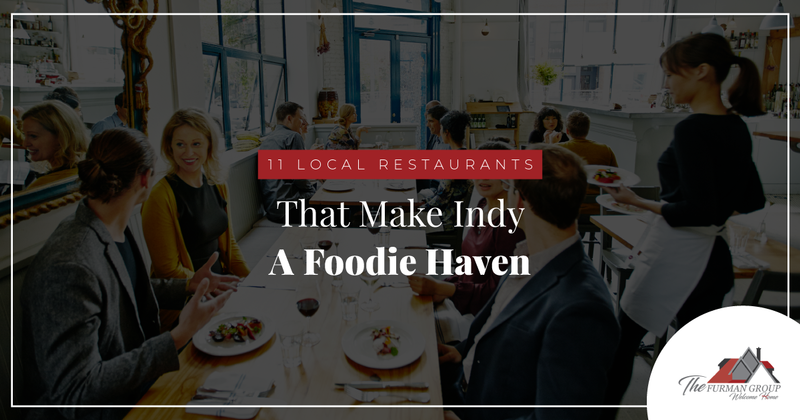 If you're going to visit Indianapolis or are considering moving there, one important fact about the city to know is that there are lots of excellent restaurants that you can choose from. Not only are there many places to go for excellent food, but the city's restaurants feature a nice ambiance as well. Here are 11 restaurants that The Furman Group Indianapolis Real Estate recommends:


1. The BRU Burger Bar
If you're looking for a great burger joint, this restaurant will have exactly what you're looking for. Not only can you order a great burger at this restaurant, but you can also order a wide range of other dishes. Everything that they cook will make for an excellent, affordable meal.
2. Shapiro's Deli
Shapiro's Deli is a great place to get a sandwich. Not only do they offer delicious sandwiches at affordable prices, but it's also a great place to get a dessert, order some mac and cheese, or potato salad. Shapiro's Deli has received excellent reviews from customers, and it's one of the most popular restaurants in Indianapolis.
3. Yats
Yats is a well-known restaurant chain in the Midwest, and they offer a variety of Cajun foods. Not only has Yats gotten excellent reviews, but they also offer affordable prices. Furthermore, it's convenient for people with allergies since the menu shows which allergens are not part of each dish.
4. Harry And Izzy's
Harry and Izzy's is a steakhouse that offers lots of delicious steak options at affordable prices. In addition, you can make reservations online, and there are gift cards available for purchase online. Not only can you get a delicious steak here, but they also offer an excellent wine menu as well.
5. Mama Carolla's Old Italian Restaurant
Mama Carolla's Old Italian Restaurant is one of the...