Things We Can't Wait To Do Again in Indianapolis
Posted by Lesa Furman on Sunday, April 19, 2020 at 11:05 AM
By Lesa Furman / April 19, 2020
Comment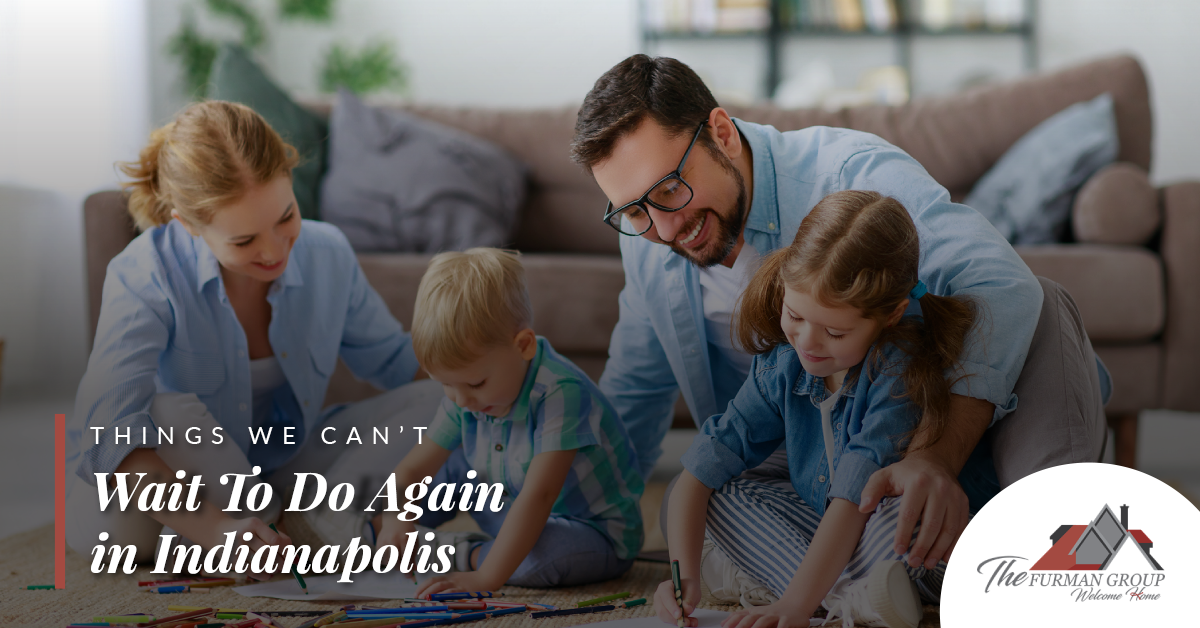 When it comes to family attractions in Indianapolis, there are so many things to do. From zip-lining in the forest to participating in a bike tour, to watching the Indy 500, this beautiful city offers it all.
It's these types of activities and events that have us operating out of nostalgia. As we sit at home and practice social distancing, there's' never been a better time to plan and budget for some fun activities you can do in the future.
Check out The 9 Things We Can't-Wait To Do Again in Indianapolis.
Fastimes Indoor Carting
Almost every "big kid" will enjoy a day spent at this exciting indoor race track. While wearing a full driving suit complete with protective gear, family members can gain a thrill racing a go-kart up to 40 miles an hour. During the racing fun, make sure to grab a bite to eat at the onsite restaurant. The restaurant offers delicious pizza and subs every day. Before bringing your "big kids" to Fastimes Indoor Carting, make sure that you sign the parental waiver.
Zip City Indy
Whether you have a teenager or a toddler, Zip City Indy is the place to be for a wide variety of families. The company prides itself on offering several exciting indoor attractions such as soccer, laser tag, ropes course, trampoline, skydive, and a rock wall. Smaller kids can have fun too. The facility features a "Toddler Town," a play area filled with toys for children less than 3 years old. A 70,000-acre facility, there's a good chance that your kids won't get bored at Zip City Indy and neither should you. Parents can sit comfortably in the sky lounge to watch their kids play or enjoy a sports game on a big television screen.
ActiveIndy Tours
One of the best ways to see everything that the city has to offer is to participate in a walking, biking, or running tour with ActiveIndy Tours. The tours offered by this company are a great way to check out the city's most famous landmarks while also experiencing sites off the beaten path. Many families love these tours because everyone can participate regardless of age.
Go Ape! Treetop Adventure
A go ape treetop adventure is an experience that your children will remember for a lifetime. The adventure involves climbing robes, walking wobbling bridges, and riding a zip line through a beautiful forest. During this once-in-a-lifetime adventure, your children will be greatly challenged in a fun and safe environment. Children must be at least 10 years old to participate.
Climb Time Indy
An extremely exciting adventure awaits at Climb Time Indy. The company is committed to ensuring that people of all ages have a fun time rock climbing, whether they are 3 or 70. Climb Time Indy features an extensive array of rock climb levels so that beginners and experts can obtain the best climbing experience of their lives. Even if members of your family have never rock climbed, they won't want to leave this world-class indoor rock gym.
Duckpin Bowling
Located in the Fountain Square Theatre Building, Duckpin Bowling is a popular attraction for families of all sizes. The facility proudly boasts eight bowling lanes in a room filled with unique 1930s décor. If any family members get hungry while bowling, they can enjoy a meal at the café. The café serves up many different foods such as salads, pizza, sandwiches, and much more.
Children's Museum of Indianapolis
Did you know that the Children's Museum of Indianapolis is one of the world's largest museum for kids?
Featuring five floors of excitement, the Children's Museum of Indianapolis offers fun and educational exhibits for kids to explore. The Treasures of the Earth exhibit allows children to be an archeologist for a day by participating in an archeology dig, solving unique mysteries, and engaging in many more archeological activities. After a day full of learning and excitement, families can enjoy a sweet treat at the food court.
Rhythm Discovery Center
If your children are musicians at heart, they will fall in love with the Rhythm Discovery Center. Situated in downtown Indianapolis, this attraction features several different musical instruments that children of all ages can play. Just be prepared for a little noise or a lot if you plan on staying a while. Most families spend at least two hours here.
Indiana State Museum
At the Indiana State Museum, learning is fun. There are several things to do at this attraction, but many families love the giant animated globe as it allows children to understand our universe in an easy and interesting way. The IMAX theatre is also loved by kids of all ages since it features many films about life under the sea.
Do you wish that you lived in Indianapolis?
Indianapolis is home to several family-friendly attractions, and it's also a great place to own a home.
If you are thinking about purchasing a home in this vibrant city, The Furman Group Indianapolis Real Estate can definitely help. We have many years of experience in this industry, so we can assist you in finding the perfect home in the area. We can't wait to work with you.